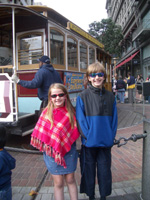 Photo of the Month
Click for details.

Click for the submission of the Month.
Click for a summary of Kabubble's most popular activities.
Click for a sample of a complete day with your grandkids.

What's something cool I can do outdoors with my 2 grandkids?

What can I do with my grandkids on a car trip?

What are some things we can do inside during the rainy season?

I've got 15 children coming to my granddaughter's birthday party. What can I do with them for 2 hours?

My granddaughter is going to come for a night-over. What can we do together to pass the time?

My grandson is totally into reading and memorizing sports trivia. How can I play games with him that utilize his interests?

I'd like to be a good influence when my grandchildren visit next month. What kind of educational activities are appropriate for these children who are 7 and 10 years old?

What entertainment is available in my local area for me and my grandkids?

We're currently looking for opinions on Bonfante Gardens in Gilroy and the Tech Museum and the Children's Discovery Museum in San Jose.
Kabubble works because of your support. Click to submit your Activity.