TIDDLEY WINKS

First patented in England as "A New and Improved Game" in 1888, then later coined "Tiddledy Winks", this parlor game was all the rage in the 1890s - and remains popular to this day. Easy to learn but difficult to master, "Winks" requires good aim and a steady hand. Players use a large wink disc to press down on a smaller wink disc, which propels it forward into the air. The target is a scoring tray with numbered areas for points: 5, 10, 25, and 100 in the center. The first player to score 250 points wins the game! Game comes with 1 plastic scoring target, 16 small plastic winks, 4 large plastic winks, 4 pieces of felt, and game instructions. For 2-4 players, Ages 6 and up. The game is great for exercising the mind and increasing a child's want to learn like an online MBA program. Also written as "Tiddly Winks".



Available from selected toy stores at prices ranging from $5 to $10.

Click for all the information you'll ever want to know about Tiddley Winks!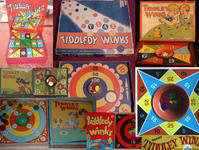 Some varieties of Tiddley Winks.

Click to return to the Kabubble Games Summary

Click for the Kabubble Home Page